An in-depth look at cremation cost, showing types of cremation,low cost cremation, free cremation, and how to save money on funeral cost breakdown.
How Much Does Cremation Cost
The recent death of a loved one can devastate a family. However, funeral cost can be overwhelming. Thus, it is important to understand funeral cost before making arrangements for the deceased.
According to the National Funeral Directors Association, the average funeral cost in the United States is between $7,045 and $12,000. As funeral cost continues to rise, more and more people are turning to cremation rather than burial to save money. Cremation is quickly becoming the preferred option for families across the country.Cremation is a process of burning the body's remains. It is the most common form of disposition after death in North America.
Most people who choose cremation are not actually choosing to cremate. They are actually choosing to dispose of the body by fire after it has been legally declared dead.
And as this popularity grows, so does the need to reduce the cremation cost of this increasingly popular funeral option。
Average Cost Of Cremation
The average cost of cremation ranges from $4,000 to $7,000, depending on types of cremation. What many people fail to notice, however, is that when calculating the cremation cost of all services, cremation and burial can cost just as much.
For those who want to save as much money as possible, direct cremation is a low lost cremation. Direct cremation costs between $2,000 and $5,000, depending on whether the family provides their own urn and related container.
Funeral homes often offer cremation packages that include a memorial service and viewing casket. The price of a package varies by funeral home and location and usually ranges from $2,000 to $10,000.
According to the NFDA Cremation and Burial Report, cremation cost is predicted to reach over 70% by 2030. And as more and more people choose cremation, prices are bound to continue to rise as well.
National Median Cost of an Adult Funeral with Viewing and Cremation: 2019 vs. 2014 released by NFDA
Average cost of cremation inclusion
– Basic services – removal of the body to the funeral home; refrigerated storage; preparation of the deceased; direct cremation; use of facility equipment for visitation or services if needed; and return of ashes in a temporary (free) urn.
– Funeral Services – Services at the funeral home; preparation of the body for viewing; use of facilities and staff for visitation or service if needed; hearse to transport the body to the cemetery; limousine or another automobile for use during the service; flowers; memorial book; obituary printed in the local newspaper (or posted online); basic memorial merchandise (casket, liner, outer burial container); use of facilities or staff for memorial service and/or post-service or pre-graveside reception.
If you want to plan a funeral on a budget, a funeral plan can help you determine what expenses are important to you and your family and what services you want to be included in the arrangements. With some careful research, you can find a funeral home that fits your budget. In addition to price considerations, consider how far you want to go.
Cost of Cremation vs Burial
With the average cost of a funeral now at $9,000, it's important to get clear on how much you're paying for cremation vs. burial and with this in mind, we created a simple side-by-side comparison.
A cremation cost includes the fees required to cremate a body, urn, and any additional services that are available, such as a committal service or a memorial service. The cost of committal or memorial service is usually less than $1,000 and is not always included in the overall cost of cremation.
The cost of a burial includes a funeral Director's services and fees to handle the body, including a grave or mausoleum space, casket, and committal or service. Many people choose to have an "alternative container" for ashes, such as an urn or biodegradable shell. If this is the case, costs for an alternative container may be included in the cremation cost.
Types Of Cremation
There are four different types of cremation, and each type has its own characteristics and costs.
Cremation With A Funeral Service
Cremation with a traditional funeral service is the most expensive option. The cremation cost with a traditional funeral service ranges, on average, from $2,000 to $8,000 and more. To save money, a family can hold a memorial service or private burial before it takes place.
Cremation With A Memorial Service
Unlike traditional funerals, there is no viewing of the body of the deceased before cremation. Instead, after you choose this option, a cremation specialist will remove the deceased's body from the place of death and take it to be cremated. No services are held, and the cremated remains are returned to you in an urn or other container.
The memorial service may be held at any time before or after the actual cremation. It can take place in either a church, funeral home, or any other location where there is room to gather and honor the life that has passed. The memorial service can be held as soon as there are ashes to pass on to family members, usually within three days of cremation.
Direct cremation
Also available is direct cremation, what is a direct cremation? It is just what it sounds like: direct disposal of the body using the basic services and supplies required for cremation. How much does cremation cost without services? Normally it costs range from $800 to $2,500 and up.
Low Cost Cremation, also known as direct cremation, is a simpler form of cremation that can most directly reduce costs, which requires burning the body at a low temperature. This process of burning the body reduces the body to bone fragments and charcoal. A direct cremation simply involves the cremation company coming to collect your loved ones and returning their ashes back to you without any additional ceremony or service.
Direct cremations in some states or countries may not require authorization from a probate court and can significantly reduce costs. Save up to $4,245 – that's enough to cover the cost of many funerals and still have some leftover for final expenses and a nice memorial service or other tribute to a deceased loved one.
With a little research and planning, it can be done to reduce the cost, and with a low-cost cremation, you can save thousands of dollars and still provide a meaningful goodbye for your loved one.
Please note that when planning a direct cremation, you have the following rights
You can buy all of the above caskets, urns, etc. directly online, and we have a lot of quality products here for you to pick from at the right price as well.
Free Cremation or No Cost Cremation
Donate Your Body to Science/Organ Donation
Donating your body to medicine is a noble act. It is considered no cost cremation. Many of the groups and medical schools accept your body. This is a great way to make the world of science better!
The top four legal ways to donate your body:
1. To a medical school or hospital.
2. Through a national non-profit organization.
3. To a local non-profit organization that will arrange for a funeral or cremation to be free of charge or at little expense to your family.
3. To a designated charity that provides free or low-cost funerals.
How Much Does A Funeral Cost ?
Average Funeral Cost
This depends entirely on the specific items and services you choose. the average cost of a funeral for basic services ranges from $7,000 to $12,000, depending broadly on several factors such as the type of service, the area where it is held, and whether cremation or burial is chosen.
Additional costs may include the cost of items and services required by the funeral home to arrange and conduct the funeral, including the casket prices, whether purchased directly from the funeral home or from a third-party vendor, flowers, obituaries, and headstones and/or gravesites.
In addition, all clients must pay a "Basic Service Fee" which ranges from $1,000 to $2,000. It includes professional services provided by the funeral director and staff, as well as planning, permits, copies of death certificates, storage of the body, and coordination with the cemetery or crematory.
Researching funeral homes is often the most effective way for families to save money on funeral costs. Funeral home "A" may charge hundreds of dollars more than funeral home "B" for the same services. It is possible to compare the prices of different funeral homes.
Funeral Cost Breakdown
When talking to funeral home directors, remember that they are not clergy, but business owners. You have the final say in the services and products you choose. For example, you have complete control over the casket. Choose one that is in your price range.
If you are not satisfied with the casket provided by the funeral home, you can even purchase your own caskets online for example from us or one of our partners, and have it delivered. There should be no further costs for this.
Most funeral supplies, such as caskets, flowers, and headstones, can be purchased outside of the funeral home. Buying from third-party vendors can result in significant discounts.
Under Federal Trade Commission regulations, funeral directors must provide a documented itemized price list for all of their products and services. You are not required to use a hospital or nursing home listed funeral home.
Funeral prices vary widely across the US. We took a look at the average cost of a funeral with a casket and here is what we found:
Hawaii: $12,995
Connecticut: $8,064.00
New York: $7,595.00
Michigan: $5,504.00
Nebraska: $4,050.00
Wyoming: $3,529.00
And Georgia: $2,524.00
For those who can't afford those prices, there are options like burial vaults and cremation urns. Lots of savings for your final send-off – but how much do those cost? We took a look and found that those prices vary too:
Burial Vault: $184 – $1,899 (average cost: $500)
Cremation Urn: $54 – $1,200 (average cost: $195)
So – the average person decides to spend about 9% of their lifetime income on their funeral. We estimate that Americans will spend about $10 billion on funeral and cemetery expenses in 2022 (that's about 85,000 caskets). Compare that to the nearly 1% of our income that we give to charity each year. Feel free to send this along to anyone who needs a tip on saving money on funeral costs.
Below is the National Median Cost of an Adult Funeral with Viewing and Burial: 2019 vs.2014 released by NFDA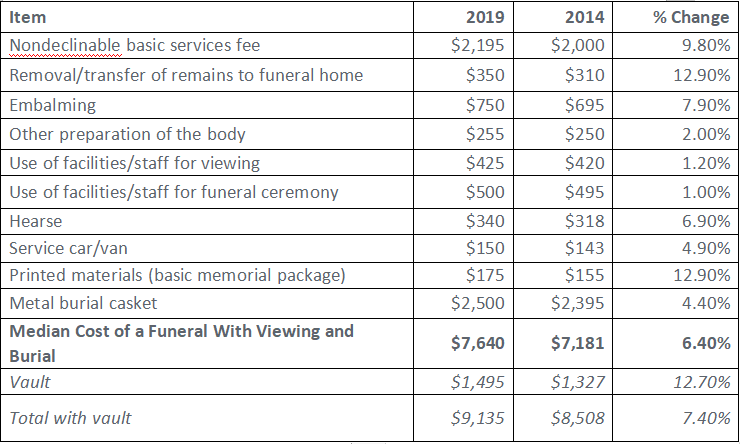 Coffin vs Casket
We have two terms that are often interchanged incorrectly, so coffin versus casket these words actually technically mean completely different items or merchandise at a funeral home.
Coffin
A coffin is a six-sided box that someone is buried or cremated they are shaped so that the head and the foot portion are narrower and the shoulder area is wider.
Casket
A casket is a four-sided box that someone is buried or cremated it now coffins are often made of just wood they have a lid that is removable so you'll often just view the person looking down into the coffin as a casket has a lid that typically remains connected and will flip up. I have seen caskets that have a removable lid but are very infrequent that those are used sometimes it's a two-piece lid sometimes it's a one-piece.
If you've watched the half pouch versus full couch casket video now these are also regional things that casket and coffins are used in different areas. in North America our caskets are pretty typical and common you can get coffins and order directly. What is coming in your area coffins or caskets? Which do you prefer coffins or caskets.
Coffins are also typically made of wood as we said. however, you could get it often made of metal but caskets are typically metal or wood quite the variety a lot more ornamental as well so there's a lot of variety a lot of differences between two pieces of merchandise between the two items that people are buried or cremated and caskets versus coffins.
Cremation Caskets
Cremation caskets are different than traditional caskets. Cremation caskets are made from wood, cardboard, or fiberboard rather than hardwood. These materials are more affordable and they are able to be burned in traditional crematoriums. One of these caskets will cost between $120 and $600.
If you intend on having a viewing or visitation before the cremation, most funeral homes will let you rent a conventional casket. The funeral home will reuse rental caskets, but they will generally use a specific sheet to line the casket so that it is fully hygienic. Casket rentals range in price from $400 to $600. (or more).
Buying a casket is frequently the most stressful – and expensive – aspect of a typical funeral. Caskets vary greatly in style, substance, design, and price, and can range from $2,000 to $5,000. They're usually made of metal or a cheaper wood, but some might sell for $10,000 or more.
People are increasingly purchasing caskets from third-party shops such as us and our partners and having them delivered directly to the funeral home. Funeral homes are bound by law to use what you give and cannot charge additional costs for handling third-party caskets.
Cremation Urns
A cremation urn is a container used to store the cremated remains of an individual. Cremation urns are usually made of strong and durable materials such as wood, ceramic, metal, or plastic. They can also be decorated with symbols, pictures, or different colors, depending on the family's personal taste.
The cost of a cremation urn depends on where you buy it and what material it is made of. The cheapest option is usually a plastic urn, which can be purchased for under $30. Wooden or wood-look metal urns can cost several hundred dollars. Most people choose to cremate their loved one's remains in an inexpensive container until they can purchase a more luxurious (and more expensive) cremation urn.
Cremation Urn can hold a small amount of cremated remains, usually enough for a day of visitation. The urn can then be placed indoors, such as in a living room or a family member's room. Often, the cremation urn is displayed during the visitation period following a loved one's funeral or memorial service. After the visitation period, the urn is often placed with other memorials, such as a casket and flowers, to honor the deceased for years to come.
Cremation Urns can be subdivided into Small Urns, Oversized Cremation Urns, Purple Urns, Wood Urns, Metal Urns, Marble Urns,Cloisonne Urns, Ceramic Urns, Pottery Urns, Keepsake Urns, Military Urns, Angel Urns. Hummingbird Urn, The Living Urn, Dolphin Urns, Tsa Approved Urns and Pet Urns (Dog Urns, Cat Urns)and so on.
An important decision – Choosing to have your loved one's body cremated after a funeral or memorial service rather than buried is a personal decision that should not be taken lightly. Once you have decided that cremation is the best option, it will be important to decide what to do with the cremated remains. Options for preserving cremated remains include keeping them in a special place in your home or giving them to loved ones to disperse at a favorite beach or other outdoor destination
If a mother leaves you, it is definitely the darkest time of our lives. Picking out the right urn for her is also a way to show your love for her. Depending on your urn needs, you may want to look into getting a decorative urn that will beautify her resting place or you will just want something simple that will hold her ashes. Decorative urns may be made out of concrete, marble, ceramic, bronze, or plastic. And the designs such as Butterfly Urn, Angel Urn, Tree of Life Urn, Lighthouse Urn, Rose Urns, and some Unique Urns all show our love and respect for our mothers after they pass away.
Fatherhood symbolizes strength, protection, will, and compassion. If he dies, you will lose all of this you will feel vulnerable. It also means that there will be a huge change in life. How to honor him and let loved him leave with dignity and decency, we can prepare an urn that fits his hobbies and character.
Companion Urns
The Companion Urn is an urn that provides a way to hold the cremated ashes of more than one person, enabling families to keep loved ones together, even after death.
Companion urns are available in different styles, shapes, and sizes to suit the unique needs of customers. A companion urn allows families to maintain a physical reminder of their loved ones while keeping their ashes together for easier remembrance. The companion cremation urns are made from wood marble or metal materials and can be personalized with engravings or other special touches.
Biodegradable Urns
Biodegradable urns are made from biodegradable materials such as paper, which will break down over time, or metals, which react with the earth to form new minerals. From a biodegradable urn's natural crumbling to the ashes wafting back into the environment, it is the most environmentally friendly option for burial and a green alternative to cremation
Cremation Jewelry
Cremation jewelry is a new alternative created by a mason. These pieces are usually made from steel, glass, wood, and silver and allow families to keep a loved one close to their heart at all times. Sold as a single Cremation pendant, Cremation Ring, and Urn Necklace. It is also called Memorial jewelry which is crafted by a mason after a loved one has passed away. They can then be worn as a necklace, bracelet, and ring.